Laura Bush
America's First Lady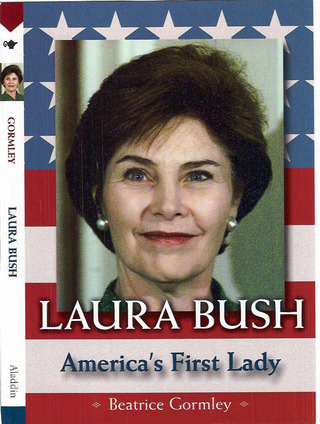 Laura Bush has loved education and reading since she was a young child. From 2001 to 2009, she brought her talent, experience, and love of children to a much wider audience as the wife of the forty-third president of the United States, George W. Bush.
This biography tells the story of Laura's childhood in Midland, Texas, of her years as a teacher and librarian, of her first meeting with her husband, of the birth of their twins, and of her important work as an advocate for women and children.
From School Library Journal:
Grade 5-8. A solid, straighforward biography. While not as overwhelmingly positive as Antonia Felix's Laura: America's First Lady, First Mother, Gormley also finds little fault with her subject. She traces the first lady's early years in Texas as an only child, and examines her stints as a teacher, librarian, and gubernatorial and presidential spouse. The author consistently focuses on Bush's devotion to reading and literacy, including her creation of both the Texas and National Book Festivals. The list of sources includes books, magazine and newspaper articles, TV and radio transcripts, and Web sites; quotations are not directly attributed to any of them. A section of color photos of Bush family members is included.
Carol Fazioli
Copyright 2003 Reed Business Information, Inc.

From Booklist:
Gr. 5-8. This straightforward biography, which introduces middle-graders to the current first Lady, marches along chronologically, beginning with Laura's idyllic childhood in Midland, Texas. The tragedy that later broke into Bush's carefree life (in 1963 she ran a stop sign, resulting in the death of a friend) is an important part of the story, but it's puzzling when Gormley reports that "no one really blamed Laura," since the description of the accident seems to put Bush at fault. Gormley does a nice job of weaving George Bush's presence into Laura's life, explaining that despite their having lived near one another several times, they didn't meet until they were introduced by friends. Throughout, Bush comes across as a woman with a strong sense of self who values her privacy. The insert of color photographs contains some very good pictures, all of which are of Bush as an adult; it would have been nice to see the little Laura. A source list includes books, magazine and newspaper articles, TV and radio transcripts, and several Web sites.
Ilene Cooper