Barack Obama
Our 44th President
The son of a black Kenyan father and a white mother from Kansas, Barry Obama was born in Hawaii and spent four years of his childhood in Indonesia. Not a likely start for a future president of the United States!

Yet when Barry was in the third grade, he wrote an essay about what he wanted to be when he grew up: president. As president, he said, he would make everyone happy.

Barry's path toward his goal would lead from high school in Hawaii to college in California and New York, to work as a community organizer in Chicago, to Harvard Law School, and finally to a fast-track career in state and national politics.

Winning the presidency in 2008, Barack Obama changed the way the world looked at America--and the way Americans saw themselves.
For millions of Americans, the election of Barack Obama as president was the moment of a lifetime. Here are the words of one African-American woman, a friend of mine who had demonstrated in the civil rights movement of the 1960s:

I was hysterically crying when my daughter in California called me at midnight [on Election Day] and she said "I just knew you'd be crying, Mother." I am truly proud of America and the voters who made this happen in my lifetime.
In 1963, I was one of 10 African American young women who entered what was then "Woman's College" in Greensboro, NC (later the University of NC at Greensboro). I spent the spring and summer of '63 demonstrating in North Carolina, spending a day in jail, going to court, etc. getting 'F's' in my classes when the teacher learned who the black girl was...name calling walking across campus...
My parents were afraid for me and my friends, but I remember having no fear during any of it. We were told to trust in God and show no fear. It was truly empowering.
It all was worth every moment on November 4th. Everytime I hear remnants of the speech Obama made that night, the tears just flow.

--Carolyn Black, Ossining, New York


Reviewers praise Barack Obama: Our 44th President:
"Among the better biographies for young people, recently updated with Obama's victory. Gormley describes the 'Guess Who's Coming to Dinner' moment when Barack's white American mother brought home his black Kenyan father to meet her parents for the first time. At Occidental College in well-to-do suburban Los Angeles, Obama transforms from Barry to Barack and his interest in politics surfaces out of the anti-apartheid movement on campus."
Leanne Italie, Associated Press

"A wonderful biography, comprehensive, clear, and consistent. It represents the man in all his complexity and manages to explain many difficult, complicated issues and events without condescending or distorting."
Emily Arnold McCully, Caldecott winner for Mirette on the High Wire.


Massachusetts Children's Book Award nominee
Bank Street Best Books of the Year
******************************************************
President . . . John McCain?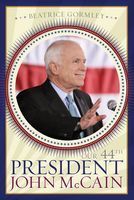 During the presidential campaign of 2008, I was busy writing two biographies. Only one of them would be published: the one of the candidate who won the election. So by Election Day, November 4, 2008, I'd written all but the last few pages of both books: Barack Obama, Our 44th President, and John McCain, Our 44th President. My publisher, Simon & Schuster, had both book covers ready to print. But now my biography of John McCain will never be published.